This is a simple, moist, flavourful chicken recipe that is great for busy weeknights when marinating chicken breasts are the last thing you are thinking about when you run out the door in the morning. You can marinate the chicken for an hour or so if you have the time, or for 20 minutes while you get a few things done before you start cooking, like change into track pants and get your little one a snack before the hunger meltdown starts.
This is really nice served with some simple potatoes cooked in an aluminum foil bag on the grill and some broccoli. If you really don't feel like preparing a side dish, then a salad with a basic vinaigrette would be nice too. Timothy usually has some cut up cucumber since we haven't started the broccoli war yet. My opening salvo in the mummy vs. preschooler broccoli battle will definitely include some cheese sauce.
This really works best with bone-in, skin-on chicken breasts because they don't dry out on the grill like boneless, skinless chicken breasts do. I don't eat the chicken skin, I just peel it off when I'm cutting it up to eat. Being able to peel the skin right off works out really well if your husband happens to burn a bit of the chicken (see photo to the left). The great part about buying chicken breasts this way is the price. I got these on sale and a package of two chicken breasts was less than $2. I shit you not. I was impressed. I think I bought six packages. I could have gotten more but I didn't want to be greedy.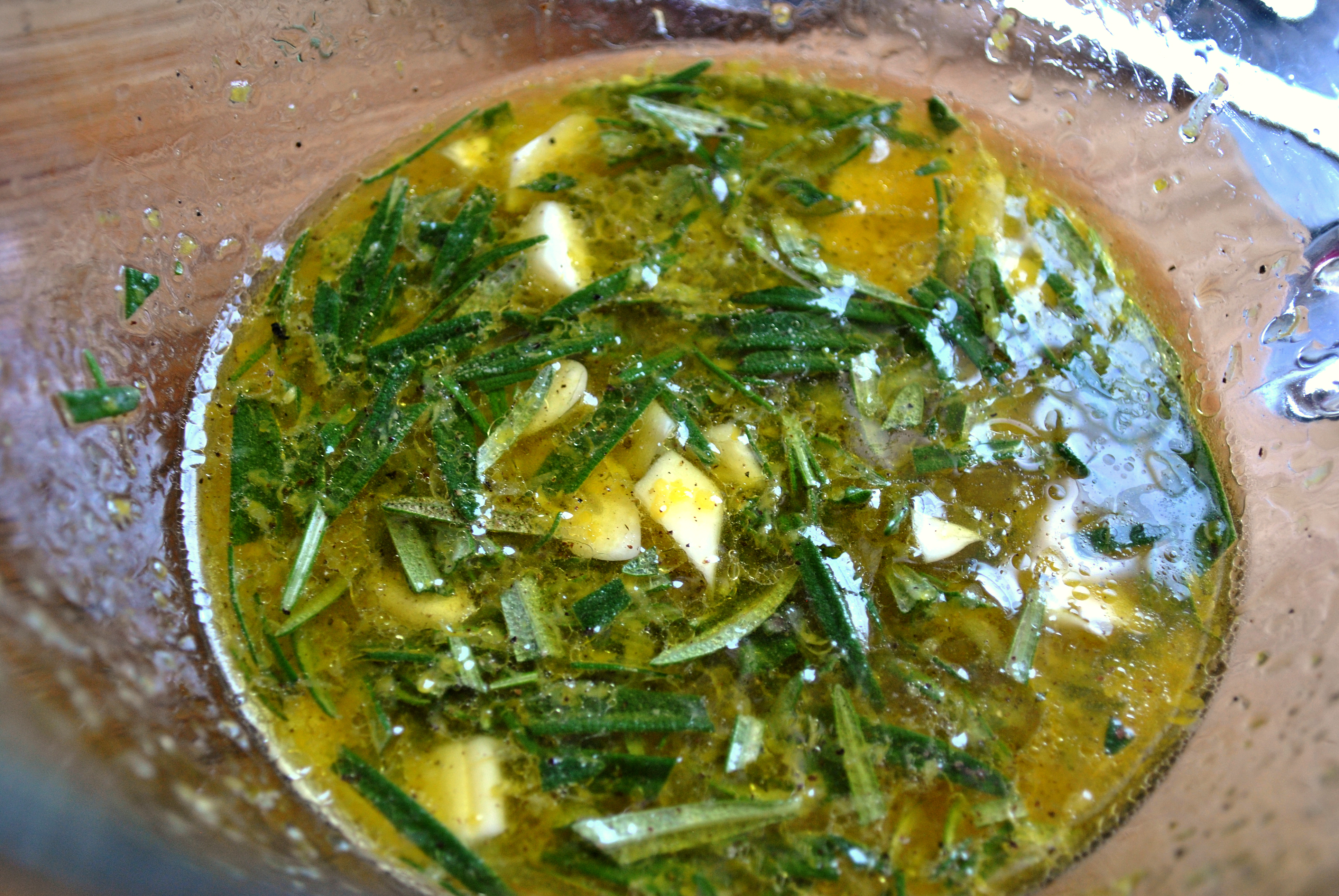 When preparing the marinade, don't forget to use the lemon zest. Just use a microplane, or if you don't have that, then the small grater side of the box grater will work fine. Honestly, the regular cheese grater side is fine to. Don't sweat it. It is just lemon zest for a marinade. Also, just cut the garlic into big chunks. It is just for subtle garlic flavour and if it is finely chopped it will stick to the chicken breasts and burn on the grill. Burnt, bitter garlic flavour isn't really what we are going for here.

Christina Austin
Yields 4
Rosemary and Lemon Grilled Chicken
Grilled chicken breasts marinated in garlic, lemon juice & zest, fresh rosemary and olive oil. - moist, tender and flavourful.
10 minsPrep Time
20 minsCook Time
Ingredients
4 chicken breasts, bone-in, skin-on
Juice and zest from 1 1/2 lemons
2 garlic cloves
1 tbsp chopped fresh rosemary
3 tbsp extra virgin olive oil
pinch salt and pepper
Instructions
Roughly chop garlic cloves and place in a large bowl.
Wash and zest lemons using a microplane or box grater. Try not to get the white pith when zesting. Then juice lemons - don't worry about seeds getting in there.
Roughly chop fresh rosemary and add to the bowl.
Stir in the olive oil and salt and pepper.
Add the chicken breasts to the bowl and move them around so they are all coated with the marinade.
Cover with plastic wrap and put the chicken in the fridge for a half hour or longer (up to 2 hours). If you don't have time to marinade the chicken then it can go straight to a preheated grill.
Have the grill at a medium heat and start grilling the chicken skin side down.
Cook for 10 minutes on one side and 10 minutes on the other. All grill vary a great deal so you may need to cook it with the lid closed for most of this time. We did, but keep a close eye on it.
The best and safest way to check that the chicken is done is to use a meat thermometer (165 degrees F internal temp). If you don't have one or can't be bothered then you can cut into the thickest part and check that it is no longer pink and the juices run clear.
Notes
Depending on the size of your chicken breasts and your grill it could take much longer than 20 minutes. Be safe kids - make sure the chicken is fully cooked before serving.
7.6.7
42
https://strawberriesforsupper.com/rosemary-and-lemon-grilled-chicken/